The first time we tried to build a virtual world was in the year 1999.  Attempting to use VRML to create a virtual nightclub, we soon gave up and used flash to create a very pale imitation of what was in our heads.Over the years we have continued to develop virtual worlds and simulations – on platforms/software including Second Life, Opensim, Unity, Unreal and more lately HTML5.

During this time VR has always been somewhat of a distant dream.   We have simulated immersion in every conceivable way using the technology of the time.

In the 2000s we tried a few expensive vr headsets, but the field of view, fidelity, latency, technical requirements and overall quality lead to an experience that was not immersive or affordable for other than a few industries.

Then in 2012 the Oculus Rift came around.  Although far from perfect, it was enough for us to realise that our dreams will one day come true…that it's not all just science fiction.

DK1 was such a leap from anything that previously existed.  It inspired many other creations, such as google cardboard and many plastic versions which do a great job of turning a mobile phone into a VR device.

They certainly weren't the first with the vision, but I thank them for their vision which has both inspired people and also pushed VR as a valid and popular technology.

The Gear VR is the first time it has felt like a finished product, a polished experience.  We have demonstrated it to everybody from my 2 year old daughter to my 94 year old grandfather and without fail they are all amazed.

It's early days, but we look forward to seeing how we can use these technologies in education and training.

Contact us if you are interested in a demo.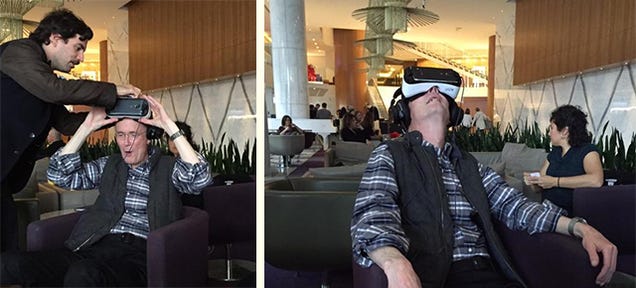 Image – William Gibson trying the Gear VR – "They did it" – source Gizmodo